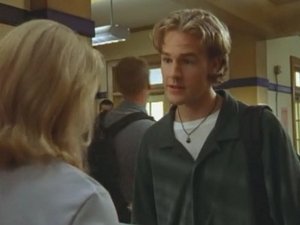 1x1 – Pilot
In the peaceful coastal New England town of Capeside, Massachusetts, Dawson Leery, a 15-year-old film buff, lives a fantasy life of movies and filmmaking with his lifelong friends, tomboy Josephine "Joey" Potter and the outgoing and clownish Pacey Witter. On the day before starting the new school year as a sophomore, Dawson meets and falls for newcomer Jennifer "Jen" Lindley who arrives from New York City into the house next door to Dawson's to help her grandmother care for her invalid grandfather. Dawson's new bonding with Jen makes Joey slightly jealous which comes ...
Gesehen von 16 Usern
1x2 – Dance
It's the night of the school dance. Dawson reveals his feelings for Jen. Joey confronts Dawson's mum with what she has seen. Pacey confronts his teacher over 'that kiss'.
Gesehen von 16 Usern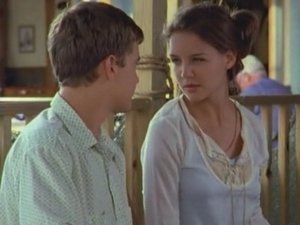 1x3 – Kiss
The class movie hits some trouble, giving Dawson an advantage. Joey falls in love with a visitor to the town. Pacey's school achievements and his relationship with Tamara intensify. Dawson brings his feelings about Jen out into the open.
Gesehen von 16 Usern
1x4 – Discovery
Dawson turns to Jen for comfort after learning about his mom's affair with her co-anchor Bob, as well as Joey's knowledge of it. But he regrets doing so when Jen tells him some of her own problems involving her promiscuity and the real reason why her parents forced her to move to Capeside. Meanwhile, Pacey and Tamera continue to temp fate with their sordid fling, which gets compromised when Dawson accidentally videotapes it.
Gesehen von 16 Usern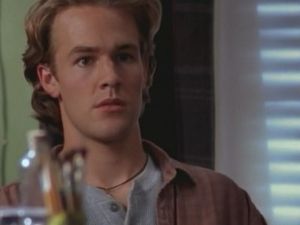 1x5 – Hurricane
When a major hurricane strikes Capeside, all the principal characters take refuge in the Leery home, including Joey's very pregnant older sister Bessie and her boyfriend. Boie. where Jen's overly religious grandmother does not hide her bigotry towards them. Also, Dawson rages at Jen about her past and at Joey for not confiding in him about her mother's philandering. But when Mitch learns about Gail's affair, he angrily storms out of the house, leaving a tormented Dawson to deal with the fallout. Meanwhile, Pacey takes shelter at Tamara's beach house with his brother ...
Gesehen von 16 Usern
1x6 – Baby
Capside is abuzz with rumors of a teacher's indiscretion, rumors that could prove fateful for Pacey and Tamara. Pacey then takes is upon himself to go before a school board hearing to admit to personally fabricating the rumors to clear Tamara. Meanwhile, Joey and Jen get a life lesson when Bessie is aided by an unlikely source, Grams Ryan, when she goes into labor and gives birth to her baby in Dawson's living room, with Dawson videotaping the whole thing.
Gesehen von 16 Usern
1x7 – Detention
After Dawson, Joey, Jen and Pacey individually commits various violations at school, they all get stuck together for an eight-hour Saturday of detention, along with Abby Morgan, a trouble-making imp, where tensions still run high between all of them when Dawson and Pacey turn against each other, and Joey offers a tearful, partial explanation for her personal anger towards Jen.
Gesehen von 16 Usern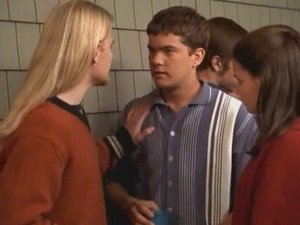 1x8 – Boyfriend
Dawson feels the heat when Jen is visited by an old boyfriend, named Billy, from New York and whom is unwilling to get go of the past, or her. Meanwhile, Joey lets off a bit too much steam at a beach party by getting drunk after seeing Dawson and Jen together and has to be rescued by Pacey. Also, tensions between Mitch and Gayle reach the boiling point as they attempt to rebuild their marriage.
Gesehen von 16 Usern
1x9 – Road Trip
Hoping to get over his breakup with Jen, Dawson and Pacey join Billy in a boys night out to Providence. Meanwhile, Jen handles damage control after Joey becomes the subject of a rumor at school when a jock tells everyone that he and Joey are physically involved.
Gesehen von 16 Usern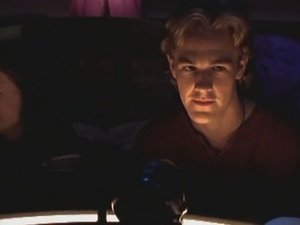 1x10 – Double Date
A double date finds Jen and Cliff joined by Dawson and a savvy sidekick, named Mary Beth, at Capeside's annual carnival which is revealed to be a plot to make Jen jealous while Mary Beth asks Dawson to help her out by trying to make Cliff jealous as well. Meanwhile, Pacey and Joey grow more close to each other when they work on a school biology project which a comedy of errors leave them stranded on a marsh bog. When Dawson later finds out of their misadventure, it's his turn to become jealous. Also, Mitch and Gail's marriage continues to become strained over him ...
Gesehen von 16 Usern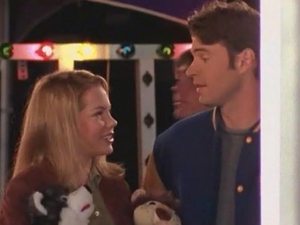 1x11 – The Scare
In honor of Friday the 13th, both the film and the date, Dawson plays practical jokes against everyone while he plans a séance for the gang to look up ghosts, until they are all spooked by reports of a serial killer heading towards Capeside. Meanwhile, Jen is asked out by a friendly jock, named Cliff, in which the date ends up at Dawson's house while Dawson, Joey, Pacey bring along a slightly-crazed young woman, named Ursula, who is running away from her psychotic boyfriend.
Gesehen von 16 Usern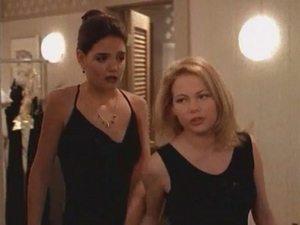 1x12 – Beauty Contest
Joey asks Jen to help shed her tomboy image so she can enter a beauty competition to make something of herself, while Pacey decides to do the same much to the annoyance of the other female contenders. While Dawson covers the competition as his first news-run gig with his mother's assistance, Jen begins to regret her breakup with Dawson.
Gesehen von 16 Usern
1x13 – Decisions
At her sister Bessie's persuasion, Joey goes to visit her father in prison. Dawson tags along and leading them to spend the night in a motel where he finally reveals his true romantic feelings for her, while Joey debates going to France for a semester abroad to escape from her troubled home life in Capeside. Meanwhile, Grams tries to persuade the atheist Jen to act through prayer as her comatose grandfather is admitted to the hospital. Also, the sarcastic Pacey continues quarreling with Doug over Pacey's failing grades, which all emits from Pacey's extremely low ...
Gesehen von 16 Usern
Quelle:
themoviedb.com